Recent work by Miguel Trelles
November 1- 30, 2022.
Opening Reception: Tuesday, November 1 from 6:00 – 8:00 p.m.
EL BARRIO'S ARTSPACE PS109. An Artist Community in El Barrio. 215 East 99th Street New York, NY, 10029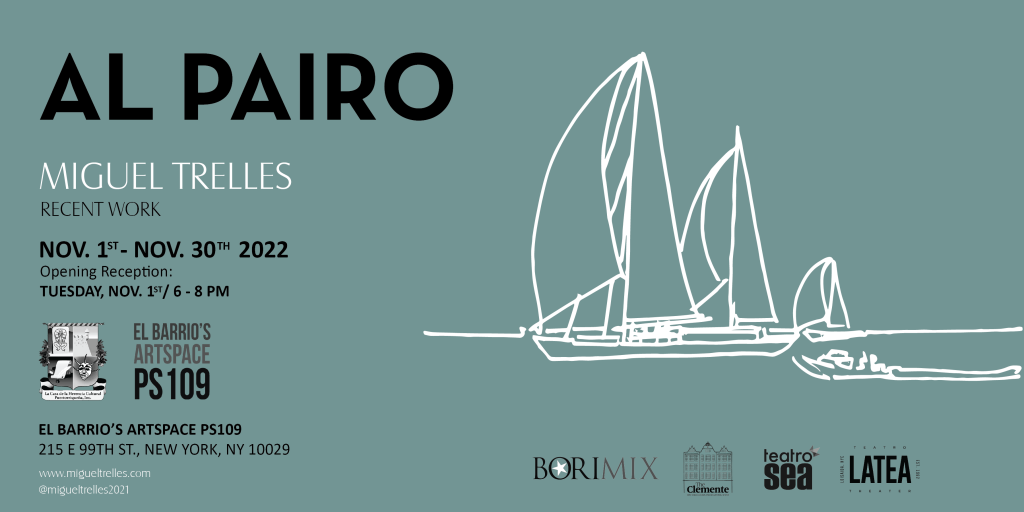 Figurative Maneuvers Underground. Recent paintings by Clemente Soto Velez resident visual artist Miguel Trelles, co-founder and chief curator of Borimix Puerto Rico Fest.
Opening Reception: November 4th / 7:00 PM.
Curator & Artist Talk: November 5th / 4:00 PM
Abrazo Interno & LES Galleries + Latchkey @ The Clemente Soto Velez Cultural and Educational Center.
107 Suffolk St, New York, NY 10002.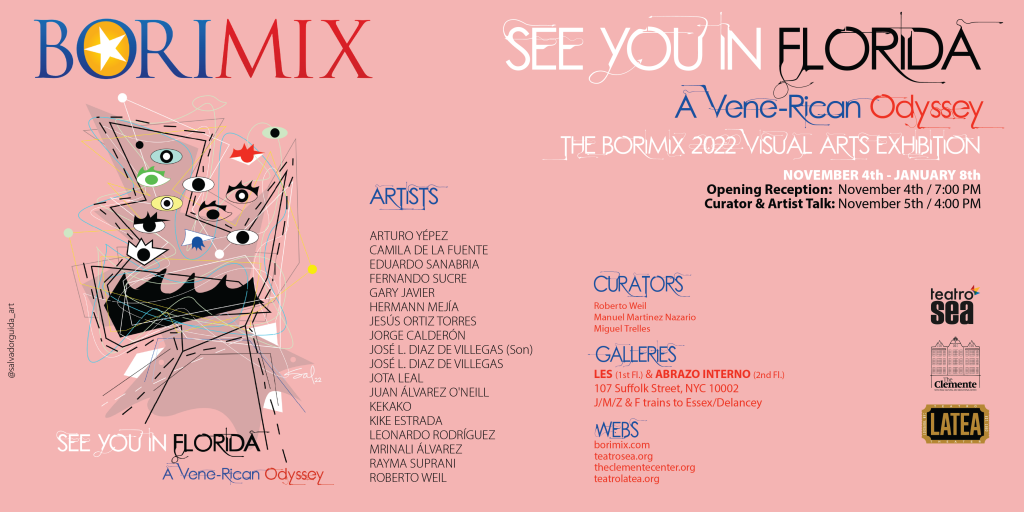 Invites visual artists to explore via political cartoon, drawing, illustration and painting, the root causes, as well as the triumphs and defeats of the Venezuelan and Puerto Rican diásporas en route to Florida. At a time when even North Americans have succumbed to the tropical allure of the Florida "Sagüesera", this exhibition seeks to highlight how Venezuelans and Puerto Ricans have increased their presence in cities throughout Florida. If many of them are leaving directly from Venezuela and Puerto Rico, many other Venezuelans and Puerto Ricans who had already established themselves in Manhattan, the Bronx, Brooklyn, Queens and Staten Island, are also heading in greater numbers towards Miami, Kissimmee, Jacksonville and other cities.
Invita a los artistas visuales a explorar a través de la caricatura política, el dibujo, la ilustración y la pintura, las causas profundas, así como los triunfos y derrotas de las diásporas venezolana y puertorriqueña en su ruta hacia Florida. En un momento en que incluso los norteamericanos han sucumbido al encanto tropical de la "Sagüesera" de Florida, esta exposición busca resaltar cómo los venezolanos y puertorriqueños han aumentado su presencia en las ciudades de Florida. Si muchos de ellos parten directamente desde Venezuela y Puerto Rico, muchos otros venezolanos y puertorriqueños que ya se establecieron en Manhattan, el Bronx, Brooklyn, Queens y Staten Island, también se dirigen en mayor número hacia Miami, Kissimmee, Jacksonville y otras ciudades.
Edra Soto and Emanuel Torres
LatchKey Gallery Opening Reception (6-8PM)
November 4 – December 18, 2022.
Artist Reception: November 4, 6-8PM.
Thursday-Saturday, 12-6pm & Sun, 12-4pm
Location: 173 Henry St. NYC, 10002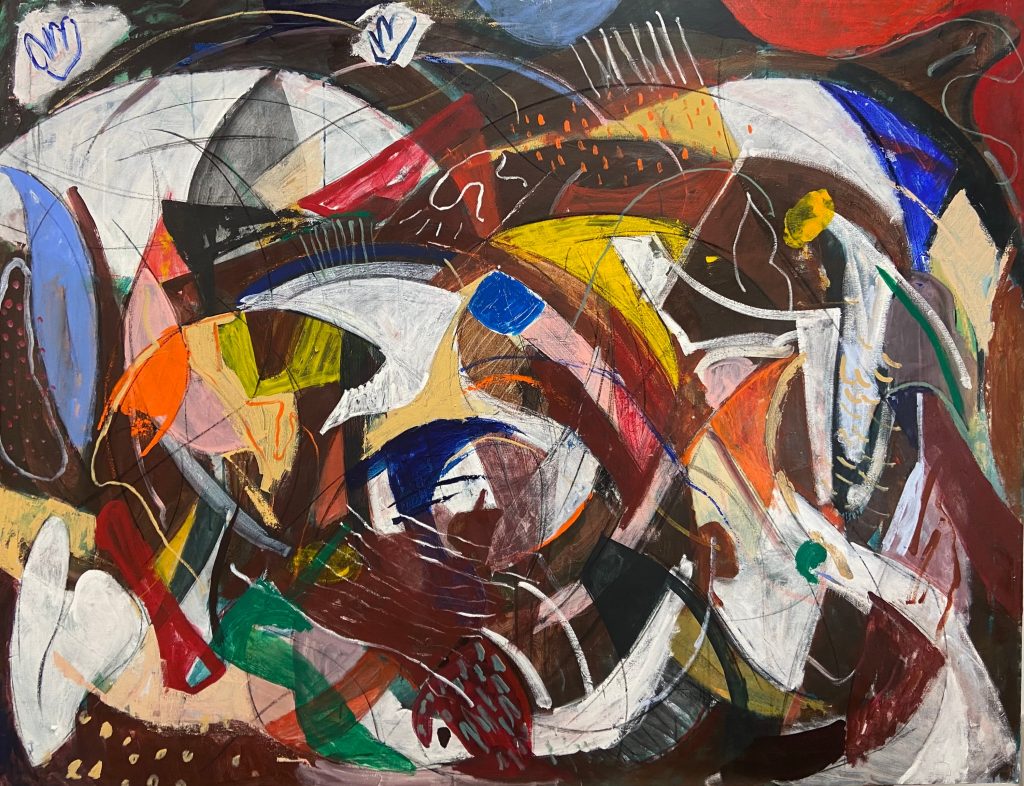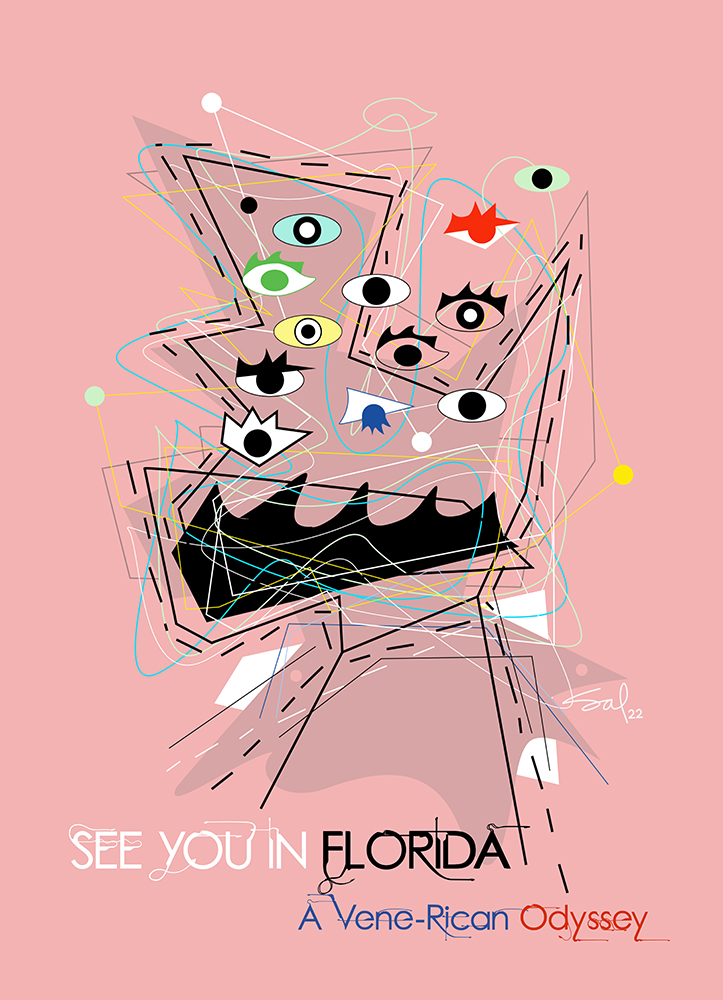 Visual Arts Exhibition Curator Tour
Saturday, November 5th. 4-5pm.
Abrazo Gallery @ The Clemente Soto Velez Cultural and Educational Center.
107 Suffolk St, New York, NY 10002.
Curators' Tour -See You in FLorida A Vene-Rican Odyssey with Roberto Weil, Miguel Trelles.
Visual Arts MicroResidents Art Talk & Studio Visits
Saturday, November 5th. 4-6 PM.
The Clemente Soto Velez Cultural and Educational Center. 107 Suffolk St, New York, NY 10002.
(3rd floor in front of Edra Soto's Domino table installation)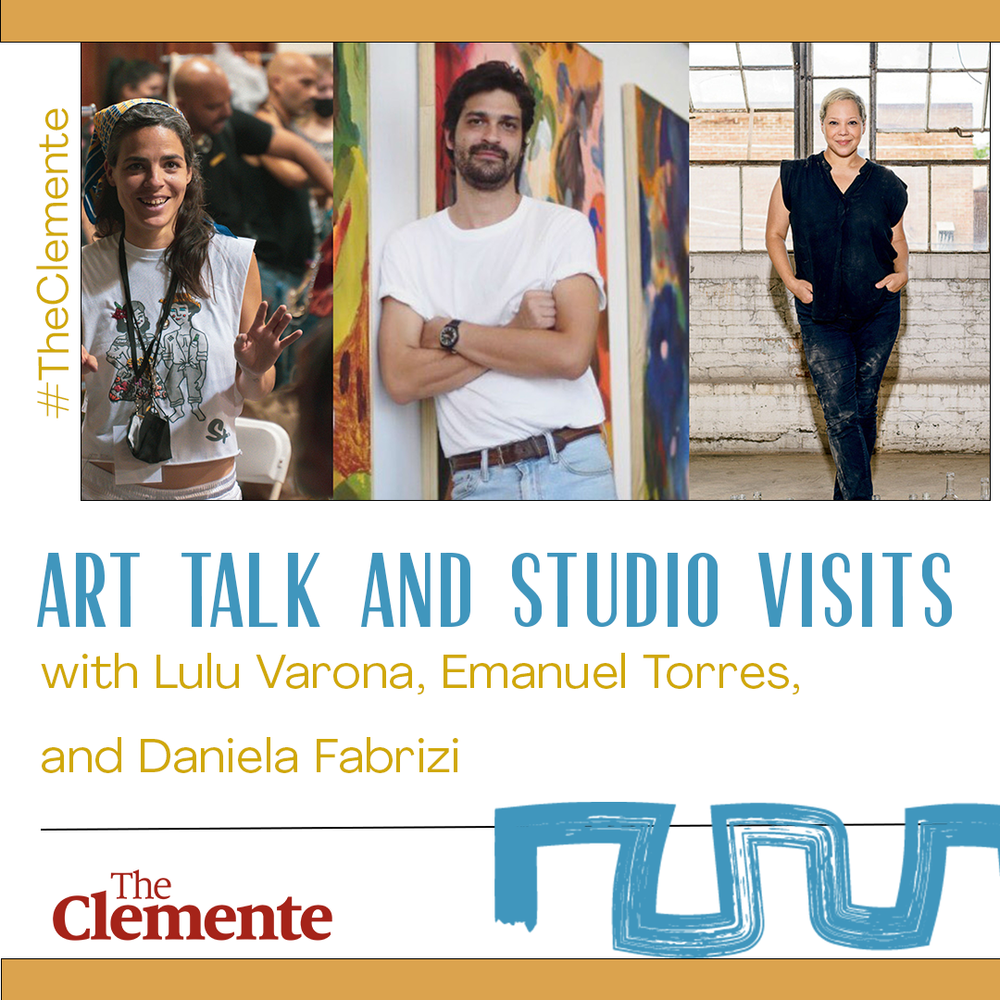 We'll begin at Edra Soto's permanent installation, entitled Let Love Win on the 3rd floor, followed by a visit to Emanuel Torres' studio to learn about his most recent paintings. Last but not least, we will end the art talk in Room 406 where artists Daniela Fabrizi and Lulu Verona will share their practice and plans for their micro-residency that runs through November. Light refreshments will be served. This program is in partnership with LatchKey Gallery.
Comenzaremos con el tour curatorial, y luego pasaremos a la instalación permanente de Edra Soto, titulada Let Love Win en el 3er piso, seguida de una visita al estudio de Emanuel Torres para conocer sus pinturas más recientes. Por último, terminamos la charla de arte en la Sala 406, donde las artistas Daniela Fabrizi y Lulu Verona compartirán su práctica y talleres públicos de su microresidencia que se extenderá hasta fines de noviembre. Se servirán refrigerios ligeros. Este programa está hecho en colaboración con LatchKey Gallery.
Whitney's - Puerto Rican Art Exhibition
No existe un mundo poshuracán
Nov 23, 2022–Apr 23, 2023.
Arts exhibition opening on the 17th.
Whitney Museum of American Art
@ 99 Gansevoort St, New York, NY 10014.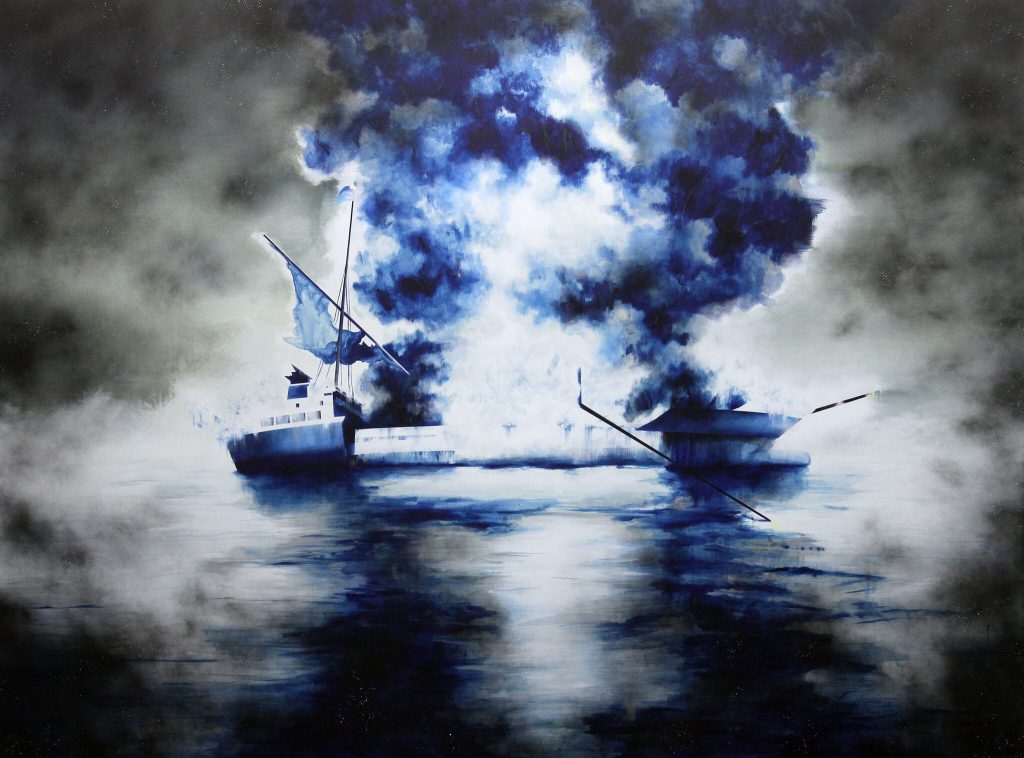 No existe un mundo poshuracán: Puerto Rican Art in the Wake of Hurricane Maria is organized to coincide with the fifth anniversary of Hurricane Maria—a category 5 storm that hit Puerto Rico on September 20, 2017. The exhibition explores how artists have responded to the transformative years since that event by bringing together more than fifty artworks made over the last five years by an intergenerational group of more than fifteen artists from Puerto Rico and the diaspora.
No existe un mundo poshuracán: Arte puertorriqueño tras el huracán María se organiza para coincidir con el quinto aniversario del huracán María, una tormenta de categoría 5 que azotó a Puerto Rico el 20 de septiembre de 2017. La exposición explora cómo los artistas han respondido a años transformadores desde ese evento al reunir más de cincuenta obras de arte realizadas en los últimos cinco años por un grupo intergeneracional de más de quince artistas de Puerto Rico y la diáspora.